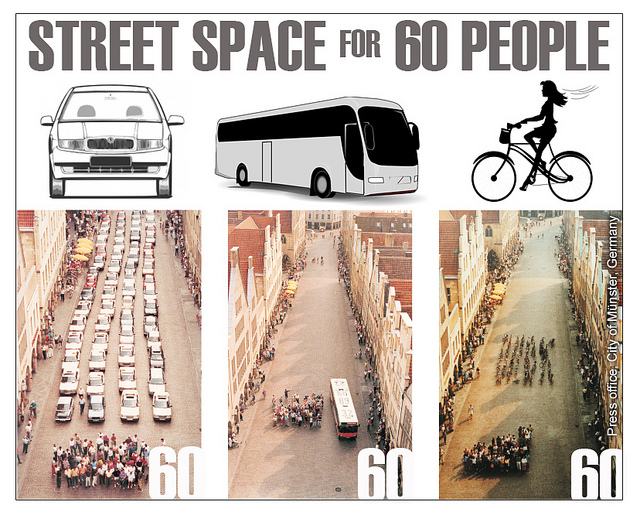 While wait­ing for the bus this morn­ing, I was watch­ing all the cars zoom­ing by and I real­ized almost every­one, no mat­ter if they were in a coupe, sedan, truck or SUV, had just one per­son in it.  I thought wow, first of all, a mod­ern mid­size car weighs a min­i­mum of 3,000 pounds.  All these peo­ple are dri­ving a 3,000 pound machine, to trans­port their 200 pound selves.  So much wasted energy, but it gives you insight as to how pow­er­ful gaso­line really is, right?  Con­trast that with a bicy­cle, which is just a 25 pound vehi­cle, pro­pelled by the same per­son, but instead of gaso­line and an engine, it's pow­ered by food and legs.
So I decided to start count­ing how many cars were actu­ally occu­pied by just one per­son, to make sure it wasn't sim­ply my imag­i­na­tion that most of the cars looked like they had no passengers.
I counted the cars com­ing toward me for about 10 min­utes.  The Results?
186 cars with just a driver
13 cars with one passenger
0 cars with two or more passengers
1 motor­cy­cle
1 bicy­cle
So it wasn't my mind play­ing tricks on me.  Play­ing with these 8am morn­ing rush hour num­bers, that means I wit­nessed 93% of the vehi­cles had just a dri­ver. About 6% had a pas­sen­ger.  And the remain­ing 1% were a motor­cy­cle and bicycle.
So why don't we car­pool more often?
1. Now, of course, it's under­stand­able why so many peo­ple drive and don't car­pool.  Every­one wants inde­pen­dence to go and do any­thing they want at any time.  It's that glo­ri­ous free­dom that gets deeply rooted in us when we get a license and our first car.
2. There is no easy way to car­pool.  I'm sure there are web sites around, but I haven't used them and nei­ther have you prob­a­bly. If you have per­sonal expe­ri­ence to share, please com­ment below!
3. Being anti­so­cial is totally accept­able in the city, and down­right encour­aged.  From a young age, fear is irra­tionally injected into us about avoid­ing strangers. As if you aren't a stranger to oth­ers your­self.  Oh and, hitch hik­ers are all mur­der­ers for sure.

So what have I done about it?
Well I haven't been car­pool­ing, that's for sure.  How­ever, years ago I started cycling and it only took a few rides until I real­ized I could some­times com­mute with my bicy­cle.  There's some­thing really beau­ti­ful about expe­ri­enc­ing the city at 12mph.  Leav­ing the car at home felt extremely lib­er­at­ing and still does to this day.  Which is really strange because you would think the car is the ulti­mate in lib­er­a­tion, but it's not.  (You have a huge respon­si­bil­ity with a car!)
For the past cou­ple years or so I've been mix­ing bicy­cling with pub­lic trans­port, which is great if I don't feel like bicy­cling a lot.  I could be tired from the pre­vi­ous day or it might be rain­ing or who knows what.
Oddly enough, I never tried tak­ing ONLY pub­lic trans­port (with no bicy­cle) until just a few months ago.  What was really strange was that just being on foot with a light back­pack and a bus pass felt even more lib­er­at­ing than just going around with a bicy­cle!  I just feel even more care-free when I don't have to deal with a bicy­cle at all, let alone a car!
In gen­eral, the more I ride my bike or take pub­lic trans­port, the more lib­er­at­ing alter­na­tive trans­porta­tion feels.  I could read on the bus.  I could write blog posts on the bus.  I could text on the bus.  I could med­i­tate on the bus.  I can't get a speed­ing ticket on the bus.  I could talk to tourists on the bus.  The bus dri­ver is my chauf­feur and I feel like a mil­lion bucks. I know how to get to work, school and the Santa Mon­ica rings with the bus.  I rec­om­mend you try it.  It's not a per­fect sys­tem, but it's def­i­nitely bet­ter than dri­ving to work or school.